In the first instance please send by email a full, detailed CV, ideally as a Microsoft Word attachment, complete with photograph and telephone numbers or email addresses for referees. Any letters of reference should be scanned and sent as well. Please also scan and send copies of your ENG1 and STCW95 Basic Skills and any other maritime qualification or certificates.
DO'S and DON'TS!
DO send MS Word document and NOT a PDF file (or similar). DO name the file with your own name i.e. 'Sally Finbow CV.doc' - NOT as myCV.doc'. DO put the position you are looking for in the subject of your cover email. And finally, please DO have the courtesy to write a covering email with your CV attached. Any blank email received will be deleted!
All of the above points are of enormous help to me - and therefore will help you too!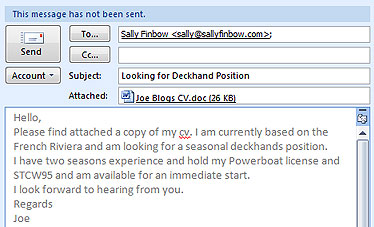 A personal interview will then be set up, ideally face to face where feasible or otherwise by telephone. This interview process – the "getting to know you" exercise – is of prime importance if I am to help you find that perfect job.
Once you are registered, it is vitally important to keep up the flow of information regarding changes in your situation. Please keep me updated at all times if, for example, your contact details change, you change location, if you acquire new qualifications and, above all, if you are no longer available. Help me to help you!
Checking in should be done at least once a week and preferably by telephone. This is once again in the interests of the "getting to know you" process – email is an extremely useful tool but it will never replace of the spoken word in terms of communication!